Königin Caroline von Brandenburg-Ansbach
Wilhelmina Charlotte Caroline von Brandenburg-Ansbach war eine geborene Markgräfin von Brandenburg-Ansbach und als Ehefrau von Georg II. ab 1727 Königin von Großbritannien und Irland sowie Kurfürstin von Hannover.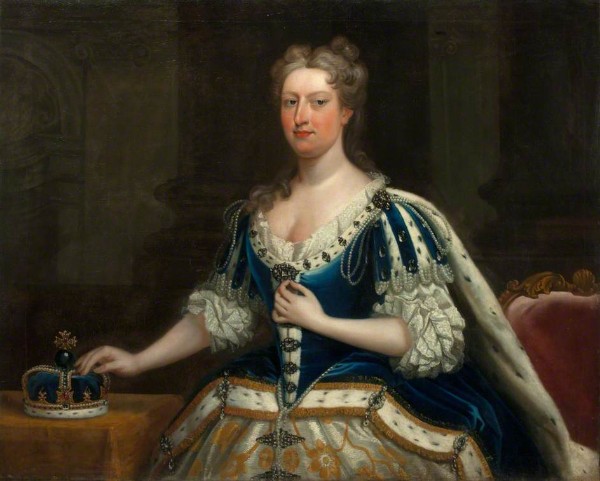 Description:
Probably painted around 1735, Highmore's profile portrait depicts the fifty-year-old Queen dressed in a loose gown lined with an ermine collar. Her hair is coiffed around a jewelled diadem and interlaced with a string of pearls. It is uncertain if Highmore obtained a sitting from the Queen; we know for certain from Vertue that his request was on one occasion denied. The artist's obituary, which lists a portrait of the Queen, emphasised his ability to 'take a likeness by memory as well as by sitting'. The companion image of George II was destroyed by fire in 1824 but appears in Charles Wild's watercolour of the West Ante Room at Carlton House (RCIN 922175) and in an engraving by John Tinney.
Signed: 'Jos: Highmore Pinx'
Text adapted from The First Georgians: Art and Monarchy, 1714-1760, London 2014
A watercolour of Queen Caroline's library at St James's Palace, prepared for one of the plates in William Henry Pyne's 'History of the Royal Residences' (1816-1819). A woman of great erudition, Queen Caroline owned a considerable collection of books, for which William Kent built a library in 1737. This was the most significant architectural addition made to St James's Palace during the reigns of the early Hanoverians. On the wall-brackets were terracotta busts of medieval and Renaissance monarchs, two of which are on display in this exhibition.
Quelle: Royal Collection Trust/© Her Majesty Queen Elizabeth II 2014